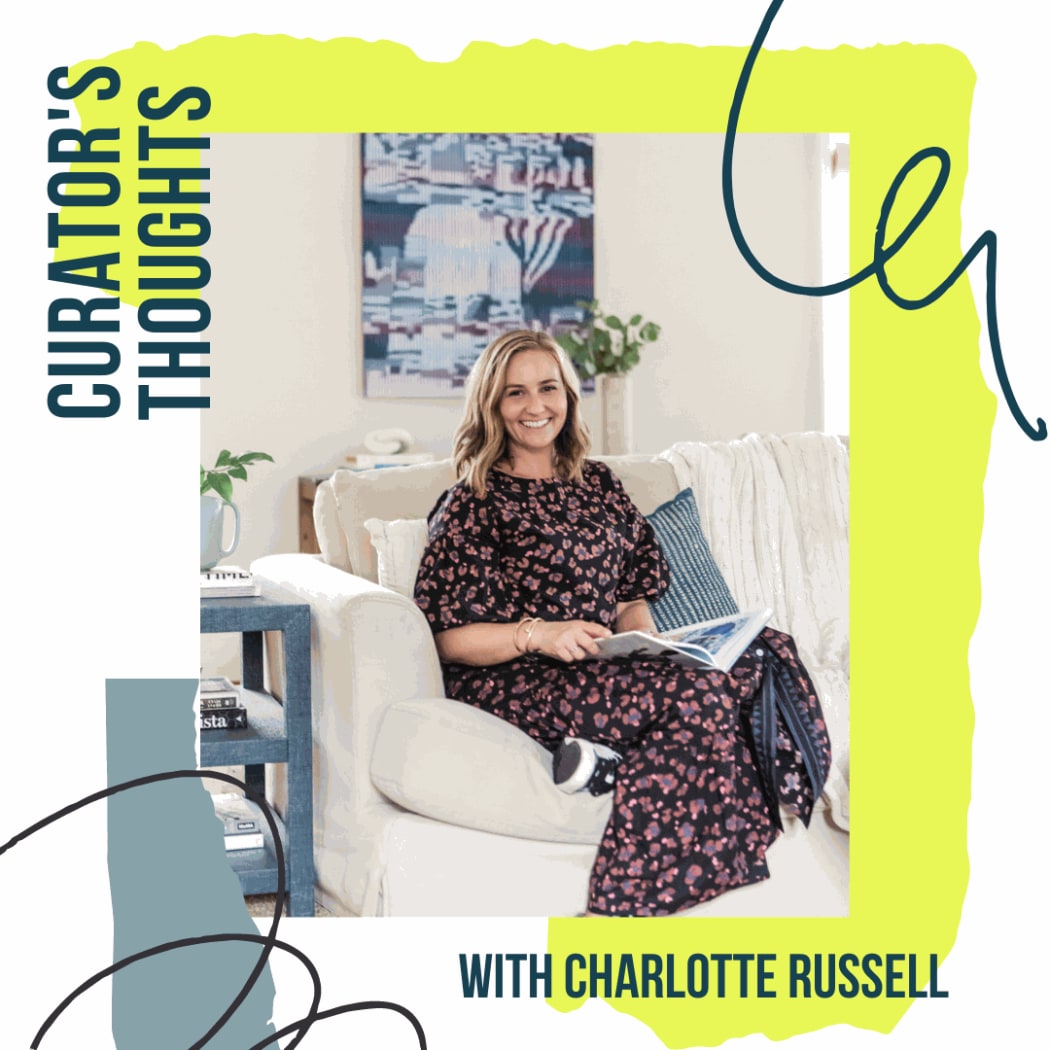 As an art gallery owner, I am constantly approached by artists to show me their work. While many submissions are interesting, it is rare that I open an email to discover artwork that I feel a deep connection to instantly. When I opened Meredith Walker's email, I knew I needed to see more. I know you will too once you see her work. I am thrilled to share this collection by Meredith Walker with you.
This collection for Charlotte Russell Contemporary is about discovery of home, acceptance, and simple joy. She started a catalog of images that are repeated throughout the collection: the dogwood tree, dogs, flowers, children, and houses. The images are a reflection of her life and weave together family history, connection to place, and motherhood.
Growing up on a little Island in Beaufort, SC, Walker lived next to her grandparents, great grandma, aunt, and cousins. Her family was very creative. Her mother and her aunt would sew and her grandmother could always be found with a cross stitch project. Now living in Columbia, SC, Meredith draws on this family history of craft through her work keeping the tradition of making alive. In doing so, she honors the women of her past and is continuing the tradition with her own children.
I have a deep love for textiles, and imagery that resembles it. Walker's pieces are just that. Her style is rooted in vintage textiles and traditional craft like quilting and embroidery but recreated in paint mixed with ground soil. The result is traditional craft made contemporary, graphically bold, and fresh.
When I look at Meredith's pieces, I feel a mirror of my own life moment. Walker originally turned to painting when dealing with postpartum depression, something I too experience as a mother of young children. Painting became a safe space for Meredith. She paints in her backyard while her children play. She incorporates the soil from her garden into her paintings, instantly transporting me to this very familiar moment of motherhood.
Meredith Walker's body of work is about connection: connection to past, connection to place, and connection to family. It is in this connection that both artist and viewer find warmth, love, joy and safety.
I hope you connect with this collection as much as I do.
X,
Charlotte Russell