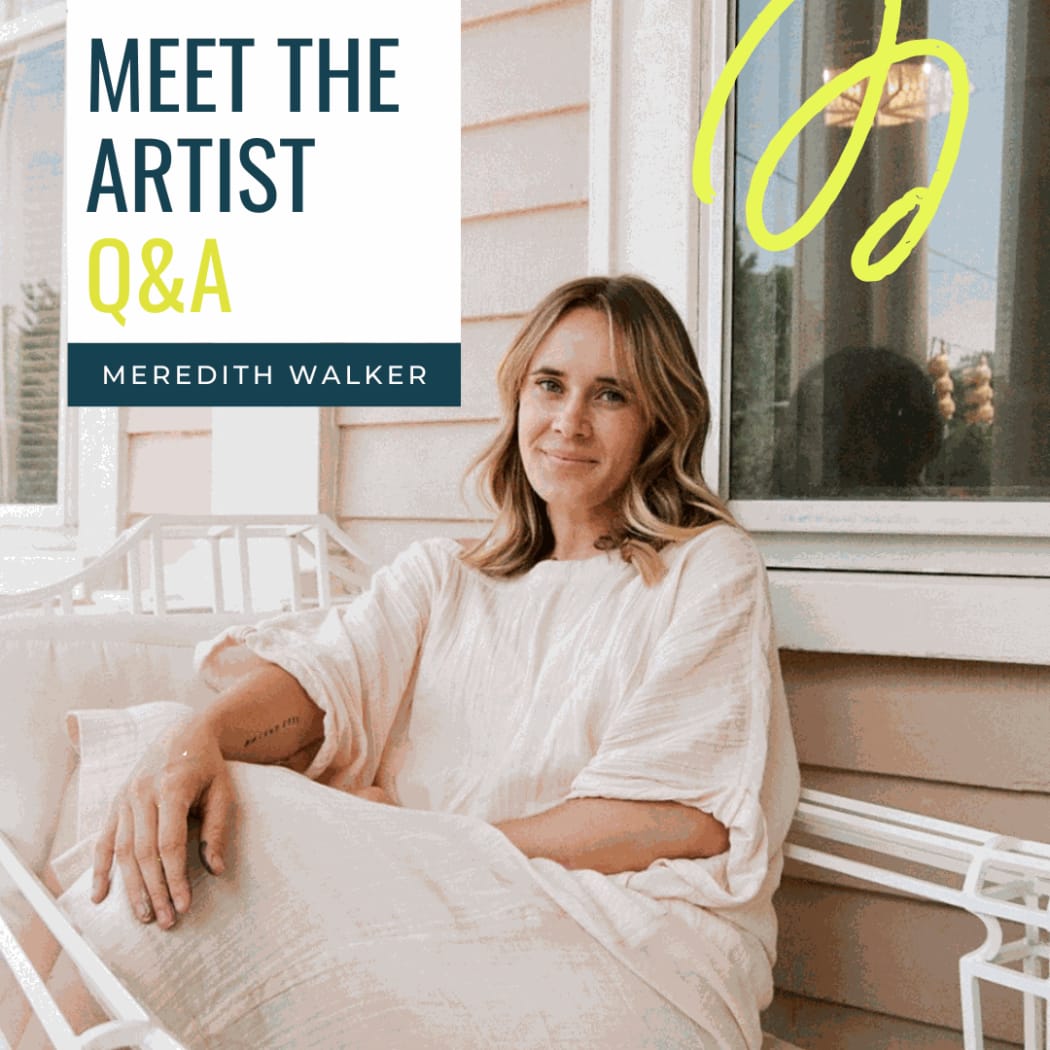 Where are you from and how does that affect your work?
I grew up in the SC Lowcountry on a little island in Beaufort, SC. Four houses in a row of my mother's family— grandparents, great grandma, aunt and cousins. My family has owned land and lived on Coosaw Island since the 1970s, so our roots there are very deep. Our connection to the salty, warm environment seems synonymous with our connection to one another. I have been fixated on this idea of being rooted in one's environment, whether it be physical or emotional. You can find that quite literally in my work. Now, living in an old suburban neighborhood in Columbia, SC my environment looks quite different. Working with the soil and studying the old dogwood trees in my little yard has been part of my process of connecting to this new home and accepting my new phase of life as a mother myself.
Where did you start as an artist?
I've always considered myself a creative person. Since childhood I have felt most alive in the times that I have been able to create. In college I chose graphic design as a major, worried that painting wasn't a clear enough career trajectory, but after becoming a stay at home mom I had a newfound desire to create with real materials and use my hands again. I started painting in 2019, at home with a toddler and a 7-week-old. I haven't looked back since.
Where do you currently live and work?
I currently live in Columbia, SC and work out of our guest room/studio.
What is your artistic process from start to finish?
First I start with a wash of color in acrylic or gouache, covering all surfaces including the edges. When it is dry, I will sketch out a design. I almost never use a sketchbook, so this part of the process is pretty experimental and intuitive. I sketch out a loose framework for the piece without adding too much detail. On the second paint layer I start to think about my color palette, choosing one color at a time and building the palette as I go. I like to use the backend of my brush or a light pencil to etch into the wet paint, uncovering the base color below. When choosing colors to use, I also think about the touch of the painting. For me, texture is just as interesting and important as color. I use mixing mediums and ground soil to create a variety of textures. Sometimes I add additional layers of paint for added texture, or paint white over a darker layer to create more interest.
Do you plan out your works before or let them take shape during your process?
I never have an idea of what I want a piece to look like at the beginning, which allows me to maintain a sense of freedom when creating work that has the potential to be rigid and geometrical.
Tell me about your medium of choice. Is there a specific environment or material that's integral to your work?


I use mainly acrylic paint in a variety of weights and finishes. I started using soil this spring when I was outside painting every day while my daughters played in the yard.
Let's talk color - how do you decide your color choices?
I love color. My biggest challenge as an artist is reigning in a color palette. I like to start with one overall color, and work intuitively from there. I love the reactive nature of color and creating unexpected moments of contrast within my work.
Where do you find inspiration?
When creating the composition of my work, I look to vintage textiles and traditional crafts such as quilting and embroidery. In high school and college I spent time in Norway, and have since been drawn to the imagery in Scandinavian folk art and housewares. I grew up in a family of very creative people. My mother and aunt sew, my grandmother could always be found with a cross stitch project in her lap. There is something really special about these skills that my generation has missed out on. In my work I am able to celebrate and learn from these traditions, as well as honor the women in my own family. My approach to painting has always been inspired by my children— their freedom and uninhibited nature invites me to a place within myself where perfection isn't the objective.
What motivates you to create?
The more I create, the more I know myself. It is my safe space.
How does being a mother and artist impact your process?
I only began painting once I had become a mother. At first, painting was a means of escape. I was in deep postpartum depression (unaware of it at the time), and I wanted nothing more than to remove myself from my environment. I painted large, expressionistic abstract works that gave me the mind-body connection that was missing in my life at the time. I had no capacity for composition or a deeper meaning. Painting was just pure, unbridled expression that brought me much needed joy. Now, years later and mothering slightly older children, my hands and body have calmed. I am in control of my emotions and I am learning to love myself. I believe that you can feel this in my work. It's warmer, slower, and more meditative. I don't think my practice will ever exist outside of being a mother, it's who I am. But my understanding and acceptance of the role as a mother has definitely changed my process.
Do you have a network of other artists, and how do they support you?
I am so thankful to know many other female artists in my area. Columbia doesn't have a thriving art scene, but I have been able to meet so many talented and supportive artists through a social club/co-working space called femme x COLUMBIA. As their resident artist, I started an art program there that features rotating art exhibits and art talks every month. Instagram has been a huge way I've connected with those in Columbia and outside of my area. It may seem silly, but the encouragement and engagement on social platforms goes a long way, especially for artists who otherwise may not have a way to share their art with the world.
Who are your biggest artistic influences?
I have always loved Joan Mitchell's work. She was my very first exposure to expressionist painting. But my first painting I made out of college— when I was still freelancing and just wanted to create a piece for my home— was inspired by the Martumili Artists in Australia. Their free use of color, texture, and symbols was unlike anything I had ever seen before. Folk artists in general are incredibly inspiring to me. There is something so freeing and magical about creating out of a natural desire without the restraints of formal training.
Let's talk about this body of work featured at Charlotte Russell Contemporary. What is this body of work about?
I began creating this collection at a time when I was beginning to understand what it means to lay new roots, and create a safe and joyful place for my family. I have begun developing a catalog of images that are repeated throughout— the dogwood tree, dogs, flowers, children, houses. All of these things are a reflection of my life and what brings me happiness. Some works are experimentations in pattern and textiles, intentionally imperfect. This particular body of work is a discovery of home, acceptance, and simple joy.
To title or not to title - how do you come up with the titles to your pieces?
This will FOREVER be the hardest job for me as an artist. I think I've come to accept that not every piece needs a name.
What do you hope viewers will take away when engaging with your pieces?
Ultimately, I hope that the viewer will find a warm, safe, and joyful place in my work.
Which art trends inspire your current work?
I'm into the psychedelic iconography we're seeing everywhere right now— eyes, sunshines, tapestries, and of course all of the color!
Describe your most favorite artwork you have made of all time
Oh my gosh this is so hard. I think the most proud I've ever been of a piece was in 2020. I made a giant 5x7 foot tiger that was stretched and suspended with rope on a custom-built stretcher. It was one of those rare times that my execution actually matched my vision. It is titled 'Paper Tiger' and was created in response to a time in my life when I felt extremely unsure of myself. I created the piece as a way to externally prove to myself that I could keep going, despite my unbelief; It was an external display of bravery when I couldn't find any within myself.
Separately, if you know anyone that needs a giant scary tiger for their next project, I know a girl.
Describe your dream project. If you could make anything, what would it be and why?
Right now, a dream of mine is to partner with a brand to create surface patterns for their product. On my to-do list right now is to create patterns and mock-ups for the clothing brand Pink Chicken, but some other big-dream clients are Crate & Kids and The Inside. I think my designs would lend extremely well to textiles, and I have always loved the idea of making art accessible through clothing. I would love to make that happen in the future!